Exclusive commercial property for sale in Rovinka with easy highway access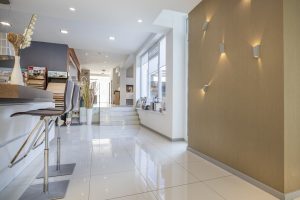 Are you looking for an exclusive commercial real estate property with an easy access to the highway?
A unique 8-years-old new building in Rovinka on Skolska Street, only 10 minutes to Bratislava is now available for sale.
This multifunctional commercial real estate has extensive retail space, two apartments, a spacious maintenance-free garden and impeccable parking spaces. Excellent location, above-standard design and three advertising billboards make this property a perfect one for your successful business.
Its auspicious location that is only one kilometer away from the highway ensures 10-minute drive to Bratislava, 1-hour drive to Vienna, 2-hour drive to Budapest and 3-hour drive to Prague which further helps to build good business infrastructure.
This exceptional property was built and approved as an interior studio showroom in 2013. Subsequently, five year later, it was modernized to maintain the freshness of the latest trends in interior design.
Highly above-standard materials and interior equipment provide an upmost pleasant feeling which is further multiplied thanks to the quality design enhanced by ingeniously elaborated details. Cast concrete floors, glass stair railings, exclusive wallpaper, elegant bathrooms, Leicht designer brand gourmet kitchens with state-of-the-art appliances as well as a maintenance-free garden with automatic irrigation and mowing, air conditioning and optical internet are just hint of what this exceptional building has to offer.
The wide entrance staircase opening into a panoramic showroom with large glass windows facing the street serves as the building´s main entrance. Commercial space on the ground floor covering 427 square meters consists of a spacious showroom, storage space, office- and sanitary facilities. Plenty of light is ensured by an ingeniously placed atrium with greenery in the depth of the showroom space arrangement. The rear area of the showroom opens to the ornamental backyard garden thanks to extensive glass door.
In addition to the main entrance to the building, there are other side entrances - a separate entrance to the storage space for delivery, a double gate to the high ceiling garage, a separate entrance to a two-bedroom apartment located on the ground floor, a separate entrance to the immense luxury apartment located upstairs along with a side entrance to the showroom leading from the parking lot, serving as a disability access as well.  The centralized key system is of great advantage; the overall protection of the building is provided by both the security system connected to the police station and a camera system with recording.
The total usable area of the building is 830 m2:
Commercial premises – 427 m2
Apartments – 287 m2
Garage – 47 m2
Inner atrium – 23 m2
Basement - 46m2
Commercial area - 427 m2
showroom + storage space + office + atrium + sanitary facilities
two separate entrances to the showroom + shop windows facing the street
third direct entrance from the street to the warehouse (approx. 120 m2)
one separate office (approx. 13 m2)
 inner atrium
3 toilets with washbasins + 1 bathroom (shower, toilet, washbasin)
possibility to divide the zone into smaller spaces
great variability
adjacent garden
courtyard
Two-bedroom apartment - 66.5 m2
separate entrance from the exterior + adjacent showroom
living room with kitchen, bedroom, bathroom, laundry room, hallway
connection to the garden
terrace accessible from the living room
fully and above-standard furnished barrier-free apartment.
Garage - 46.6 m2
street-facing double garage
electrically driven gate
garage – showroom connection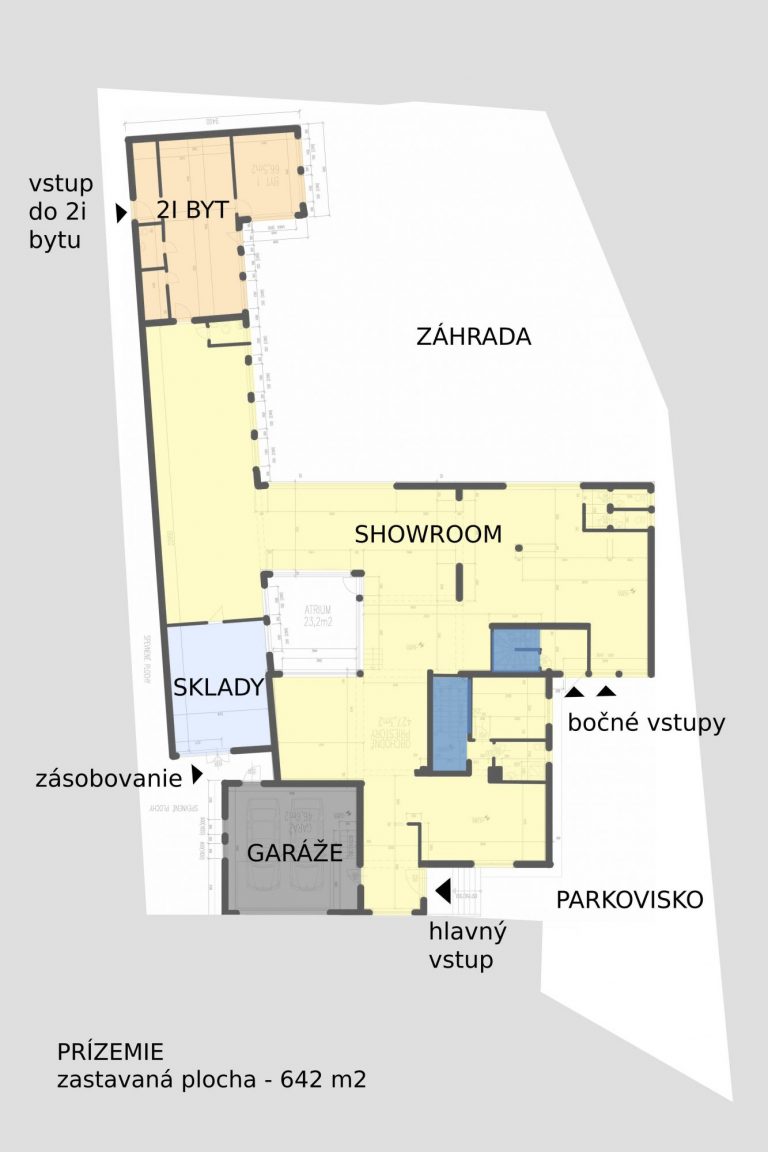 Four-bedroom apartment – 221 m2
executive fully furnished luxury apartment
two separate entrances (stairs) from the showroom
living room, dining room with fireplace, kitchen, guest washroom, pantry, staircase, outdoor terrace 20 m2,
evening zone: three spacious bedrooms, two large bathrooms, separate walk-in closet (18 m2) adjacent to the master bedroom, staircase hall, balcony
equipment: above-standard quality – Leicht brand design kitchen with built-in appliances, cast concrete floorsin the living area, laminate flooring in the bedrooms, glass handrailing on the stairs, fireplace in the dining room, alarm, air- conditioning and much more.
Technical facilities - 45.8 m2
entrance from the four-bedroom apartment
technical room, boiler room, laundry room, storage
ADVANTAGES OF THE PROPERTY:
bringing together business and living
the property is ideal for being used as a commercial space, showroom, design or interior studio, private clinic, medical facility, school facility, social services facility, apartment building, office building, IT company, law office, advertising agency, fashion studio
location on the onset of Rovinka
good access to Bratislava
new building
above-standard quality materials and design
low monthly expanses - approximately 400 € including property tax
high variability of premises
maintenance-free garden
two billboards installed near building, one on the main street.
Potrebujete viac informácií?
Som tu pre Vás, zavolajte mi, alebo napíšte: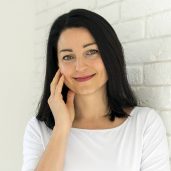 Ing. arch. Eva Skupil Bučeková
0905 754 562
eva.skupilbucekova@re-max.sk
www.evaskupilbucekova.sk